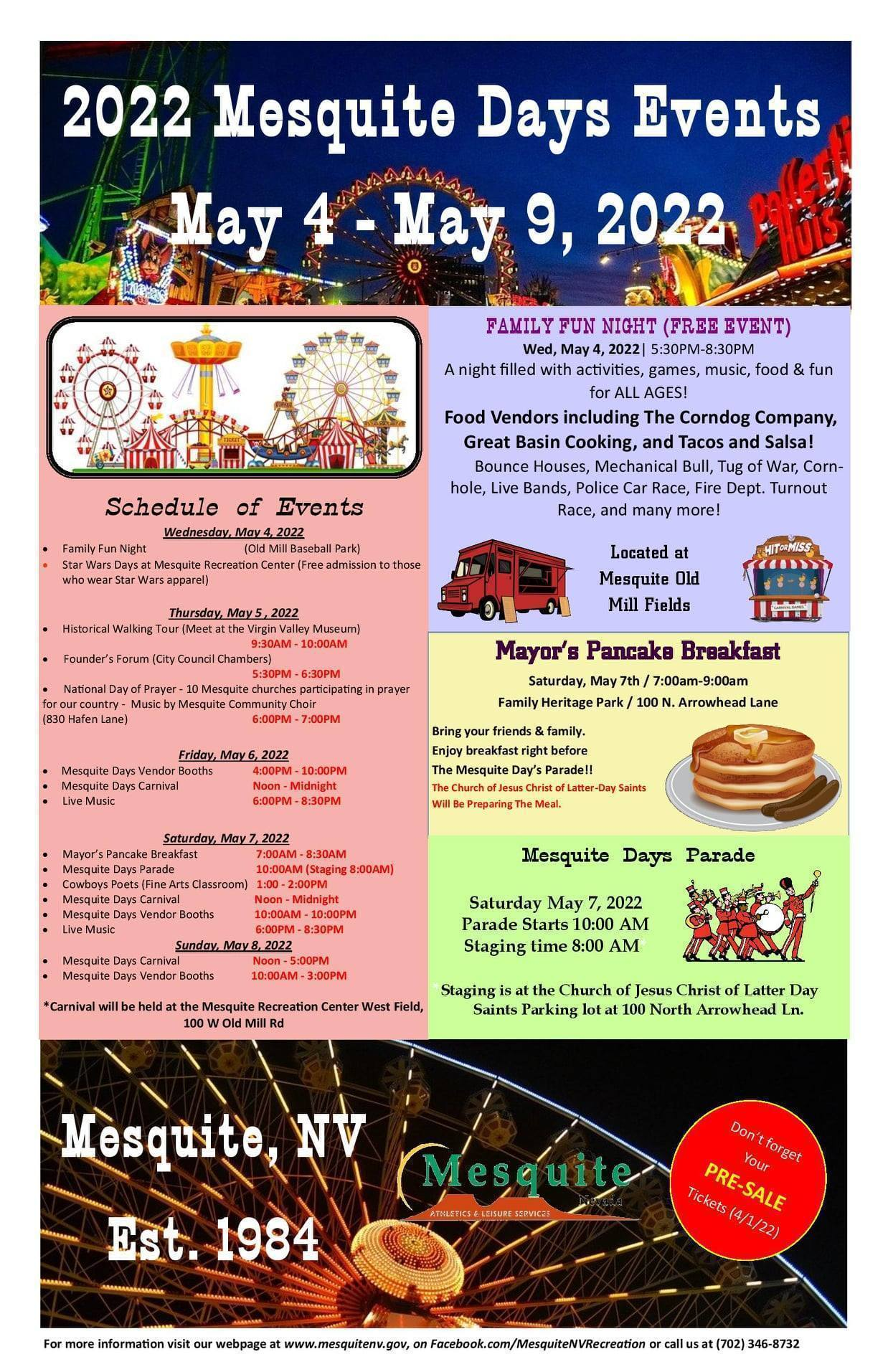 Who: Everyone!
What: Mesquite Days, a celebration of this Nevada community filled with a parade, carnival, music, entertainment and family activities.
When: Wednesday, May 4 through Sunday, May 8
Where: Throughout Mesquite's historic downtown
Cost: Advance carnival tickets go on sale April 1 at the Mesquite Recreation Center for $35 each (cash only) and are good for unlimited carnival rides for one day.

Mesquite Days Honors Nevada City's Heritage
There's nothing like a good old-fashioned country celebration. Mesquite Days are coming and organizers have planned a fun-packed week full of live music, entertainment, food, carnival rides, stories of the little city's history and more!
The celebration will begin on Wednesday, May 4, with a Family Fun Night at Old Mill Baseball Park, 50 W. Old Mill Park, Mesquite, NV 89027, 5:30-8:30 p.m. In addition to music and games, the event will feature a mechanical bull, tug-of-war, police car race, a fire department turn-out race and great food from vendors like the Corndog Company, Great Basin Cooking and Tacos and Salsa.
Also on Wednesday, the Mesquite Recreation Center will feature Star Wars Days. Anyone wearing a Star Wars costume will get in free. The center is located at 100 W Old Mill Rd.
Fun continues Thursday with Tours, History and National Day of Prayer
Take a historical walking tour on Thursday, May 5! Those wanting to take the tour will meet at the Virgin Valley Museum, 35 W Mesquite Blvd, Mesquite, NV 89027, at 9:30 a.m. The tour will last about 30 minutes.
A Founders Forum will take place Thursday, 5:30 p.m., at the City Council Chambers, 10 E. Mesquite Blvd. Mesquite, NV 89027.
Ten churches will participate in a National Day of Prayer with music provided by the Mesquite Community Choir. This event will take place at 830 Hafen Lane beginning at 6 p.m.
Carnival opens Friday
A carnival will open on Friday at noon at the Mesquite Recreation Center west field, 100 W. Old Mill Rd. Rides will stay open until Midnight. Vendor booths will operate 4-10 p.m. Enjoy live music 6-8:30 p.m.
Advance tickets go on sale April 1 at the Mesquite Recreation Center. They cost $35 each (cash only) and are good for one full day of fun at the carnival.
Mayor, church serve up hotcakes Saturday
Start your weekend Saturday, May 7, with a hearty meal at the Mayor's Pancake Breakfast, 7-8:30 a.m. Members of the Church of Jesus Christ of Latter-day Saints will prepare the meal at 100 N. Arrowhead Lane. Parade staging will be at 8 a.m. at the same location as the breakfast. The parade begins at 10 a.m.
Cowboy poets will perform at the Mesquite Fine Arts classroom, 15 W Mesquite Blvd.,1-2 p.m.
Vendor booths, the carnival and live music will continue into the evening on Saturday. Vendor booths will be open 10-3 on Sunday. The carnival will operate from noon to 5 p.m. that day.
Women's History and Culture Center holds Open House
The Women's History and Culture Center invites residents and visitors to its center at 225 N Willow St, Mesquite, NV 89027 on Saturday for an open house, 11 a.m. to 2 p.m. Tour the center, listen to live music and enjoy light refreshments.