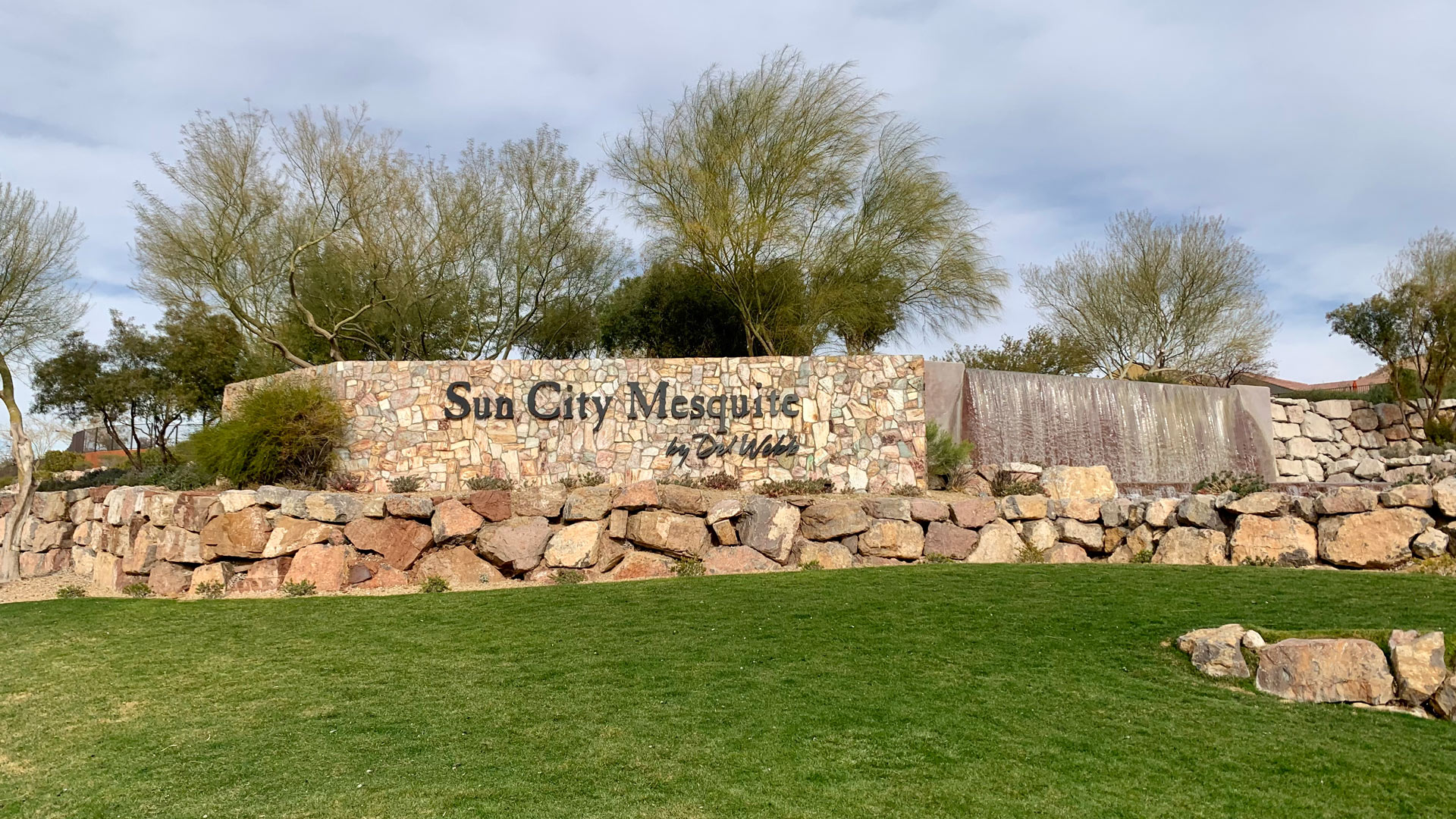 The cost to build a home in Mesquite Nevada will be between $200 to $450 per sqft, this will vary on location, house size and house type. Let me break this down into four main categories that home builders in Nevada use and the price ranges that go with each. These categories are Production, custom, custom plus, and ultra luxury. Let me help you understand the different types of Nevada builders and help you find the one that fits your budget the best. We have witnessed people picking builders who are either over or under their budgets, either trying to save on costs or not fully understanding the costs associated with each.
Production Builders
Production builders typically build in new developments and build hundreds if not thousands of homes every year. A great example of an production builder is Del Webb in Sun City Mesquite These homes are built in large quantities and have similar characteristics between each house. When dealing with mass produced houses, they tend to be more quantity over quality. The production builder includes the basic necessities with limited options in order to stay in an affordable price range. You'll be provided some floor plans to choose from that have been designed for the basic functions needed in a household. Just like your floor plan, each one of the finishes for your home will be provided with a limited amount of options to choose from. Again, in order to keep the costs down.
The way production builders make money is to squeeze costs out of every line item, from inexpensive overall finishes throughout the house, hollow core doors, cheap prebuilt cabinets, and carpet in the bedrooms. These are just a few examples of the ways production home builders reduce costs. $200 to $250 per square foot is usually the price range for a house built buy a production builder here in Nevada. So if you take that estimated dollar per square foot and multiply it by a 2000 square foot house, you'll get somewhere between $400,000 to $500,000 price range for a typical production built home.
Custom Builders
A custom home is exactly that, custom. The land used for building can be land that you currently own or land that you acquire. You'll be more involved in the process as a whole when it comes to designing your home. This type of build lets you have the freedom of building your own custom home while keeping the cost relatively low. Your price range will dictate the types of material and overall level of quality you'll be able to incorporate in the building process of your home. How much money you spend up front is important in this type of build, especially when it comes to your architect and interior designer. Some of the issues you'll typically run into with this type of builder is inexpensive architecture and interior designers. Low allowances for finishes, less expensive trades working on your house and lower quality materials like final windows.
This type of builder may do a good job for you, but most likely you'll not be able to get the level of finish quality you're seeing in your favorite house and Pinterest photos. Have you ever heard the term beer budget with champagne taste? This can happen with this type of builder. With that said, you may be the kind of person that's just fine with that level of builder. But if you continuously find yourself always falling in love with the items that are very expensive, you may want to rethink going down this path. Costs are more crucial in this custom builder category and need to be distributed efficiently. The price range is $250 to $300 per square foot to build a house by a custom builder here in Mesquite. So if you take that estimated dollar per square foot, multiply it by typical 3,500 square foot custom house, you'll get somewhere between $875,000 to $1,050,000 price range for a typical custom built home.
Custom Plus
The next category is custom plus, and if you've never heard of the term before don't be surprised, I made up the category. I thought it would be important to discuss the difference between a typical custom builder and a higher end custom builder, which I call custom plus. Custom plus is somewhere between a regular custom builder who's typically lower in price and then that of a more of a luxury custom builder who's higher. Also, I think it's the best value for buyers because you get some of the same luxury finishes from the ultra luxury builder without the heavy price tag. Custom plus homes follow the same process as mentioned in custom homes, but the builders focus more on building beautiful homes by using the best quality materials and tradesmans in the industry with well designed homes that support your lifestyle.
Custom plus builders usually provide award-winning in-house architects and interior designers. Some of the items to expect from these builders are custom cabinetry, allowance amounts suited for high end finishes, including items like Thermador appliances, quartz countertops, and wide plank flooring. With quality being the most important detail on any custom plus home, the value is definitely there for buyers with exquisite taste. Costs can range anywhere between $300 to $400 a square foot. So if you take that price range, multiply it by typical 4,000 square foot home, your estimated home will cost $1,200,000 to $1,600,000
Ultra Luxury
Ultra luxury is the best of the best in terms of design, build, finishes and size of the home. These homes are built to meet specific tastes of the wealthy and include lavish amenities throughout the house. They're also the best locations in the city, finest of upper-class neighborhoods. Everything is of the finest quality and these builders have multiple awards for their excellence. Technology is also a huge must in an ultra luxury home. With the touch of a button on your phone, you can control your entire home. Thermostats, lighting, security and much, much more. Outdoor amenities are a must when building an ultra luxury home. The ideal backyard for an ultra luxury home includes an outdoor kitchen, a pool, guest house, and an amazing view. A massive closet extending from the master bedroom to hold your extravagant wardrobe, plenty of storage space, drawers, seating should all be included when designing and building your ultra luxury home.
This type of home is obviously the most expensive category. These constructions are built with the latest and greatest in everything it takes for building an ultra luxury home. No matter the price tag. The price range is usually $400+ per square foot plus to build a house by an ultra luxury builder here in Salt Lake Valley. So if you take that estimated dollar per square foot, multiply it by a 7,000 square foot house, you'll get somewhere around 2,800,000 million as a starting price for a typical ultra luxury home here in Mesquite, Nevada.
Search all Homes for Sale in Mesquite NV