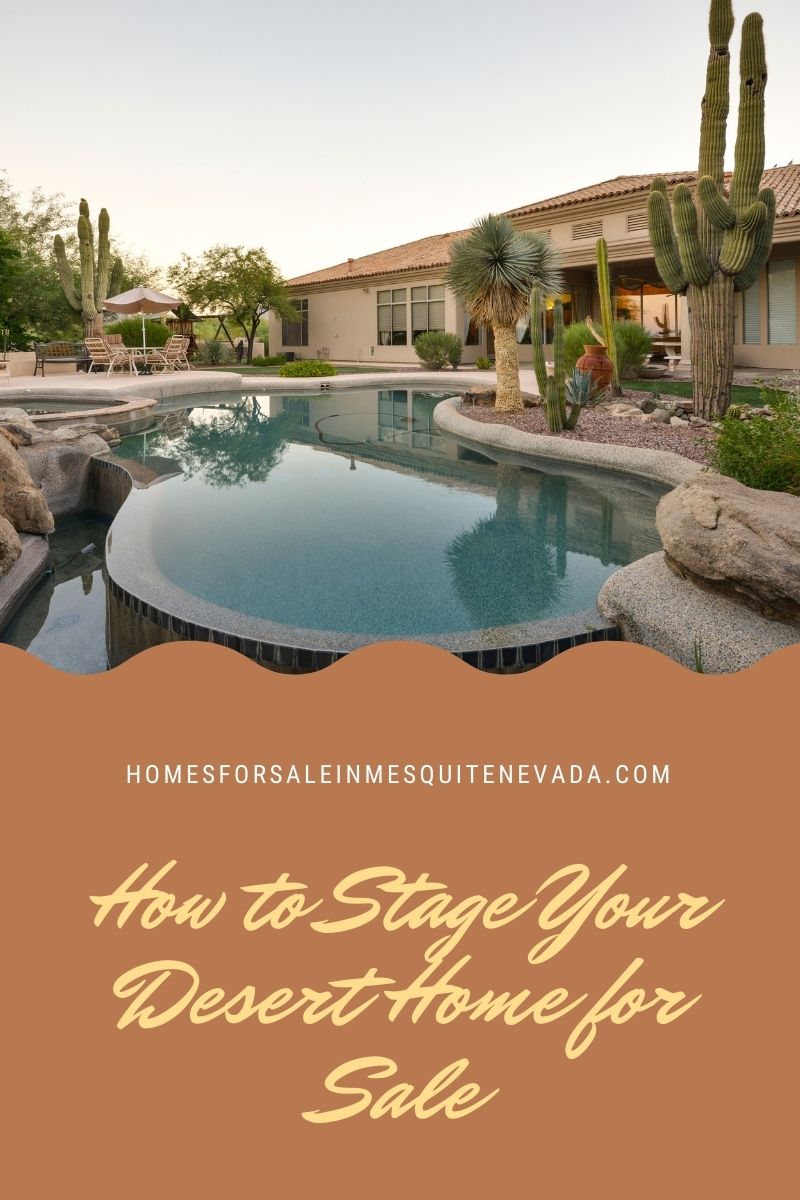 Lush foliage, green grass, and perfectly manicured trees… Not necessarily something you're going to see in every Nevada yard. So while a lot of curb appeal websites and home staging articles can talk about how to manicure your lawn and set up your home, living in Nevada is somewhat different. People are moving for the heat, the dryness, and the glorious landscape of Nevada and Mesquite Nevada definitely provides that. If you're looking to stage your Mesquite home for sale, here are several tips on staging a desert home or property.
Be aware of temperature control.
Designing a home in the desert does require some understanding of the extreme temperatures that can range from freezing temperatures in the winter to over 100° in the summer. This can definitely change the desert landscape around your home. You can't simply pick any flowers or plants to provide the right curb appeal. However, shade is an essential element of a house in the desert. Consider deep overhangs to keep interior areas cooler and provide outdoor settings for days when the weather is more clement. Make sure that there is a way to change ceiling fans to summer or winter modes to make the interior more comfortable for potential buyers.
Colors
Faded colors like taupe, linens, or dusty shades provide a cool feeling when used in desert style interiors. Pale pink walls can offer a shining glow in the sunlight and any color that simulates the desert such as golds and earth tones can create a harmony with the environment adding to the appeal of a desert home.
Curb appeal.
Curb appeal is probably the number one thing that's going to differ between a desert home and a non-desert home. Stone and adobe are common exterior finishes because of their cooling qualities. Wood is not always a good choice for a desert exterior because of the harsh heat and weather throughout the year. Rock gardens, native plants, trees, and shrubs, and embracing the desert ambience both exterior and interior, will show that you're not trying to present something that's fake or not practical. Go with native colors, hardscape materials, and plants whenever possible.
Related: What to look for when buying a desert home
Lighting.
Most desert homes are built to take advantage of dramatic views since we can see for long distances, especially up on the hill in Mesquite. Floor-to-ceiling windows might be tempted to protect the interior from heat and sunlight and also to save energy. But, you do want that natural light to flood in throughout the home offering soft glows at different times of the day and using linen or sheer fabrics can provide privacy while maintaining a cool interior.
Outdoor spaces.
The whole point of enjoying a desert home is the weather so embrace the times that you can comfortably enjoy the outside by providing seating areas, indoor outdoor spaces, or even an outdoor kitchen for alfresco meals and entertaining.
Staging a desert home does take a little bit more thought and finesse then a non-desert home but by embracing it, you're likely to get the best potential buyer interested in the home. People are buying in Mesquite for a reason and when you embrace the atmosphere and climate, it makes the home much more appealing to all buyers.
Related: How Major Systems in Your Home Affect the Value
If you need help staging or listing your Mesquite home or you're planning on selling in the next year, contact our office at any time. We love to provide updated information, tips on staging your Mesquite home, pricing it and what it is currently worth.
More: 5 Ways to Increase the Curb Appeal of Your Desert Home
Search all Homes for Sale in Mesquite NV