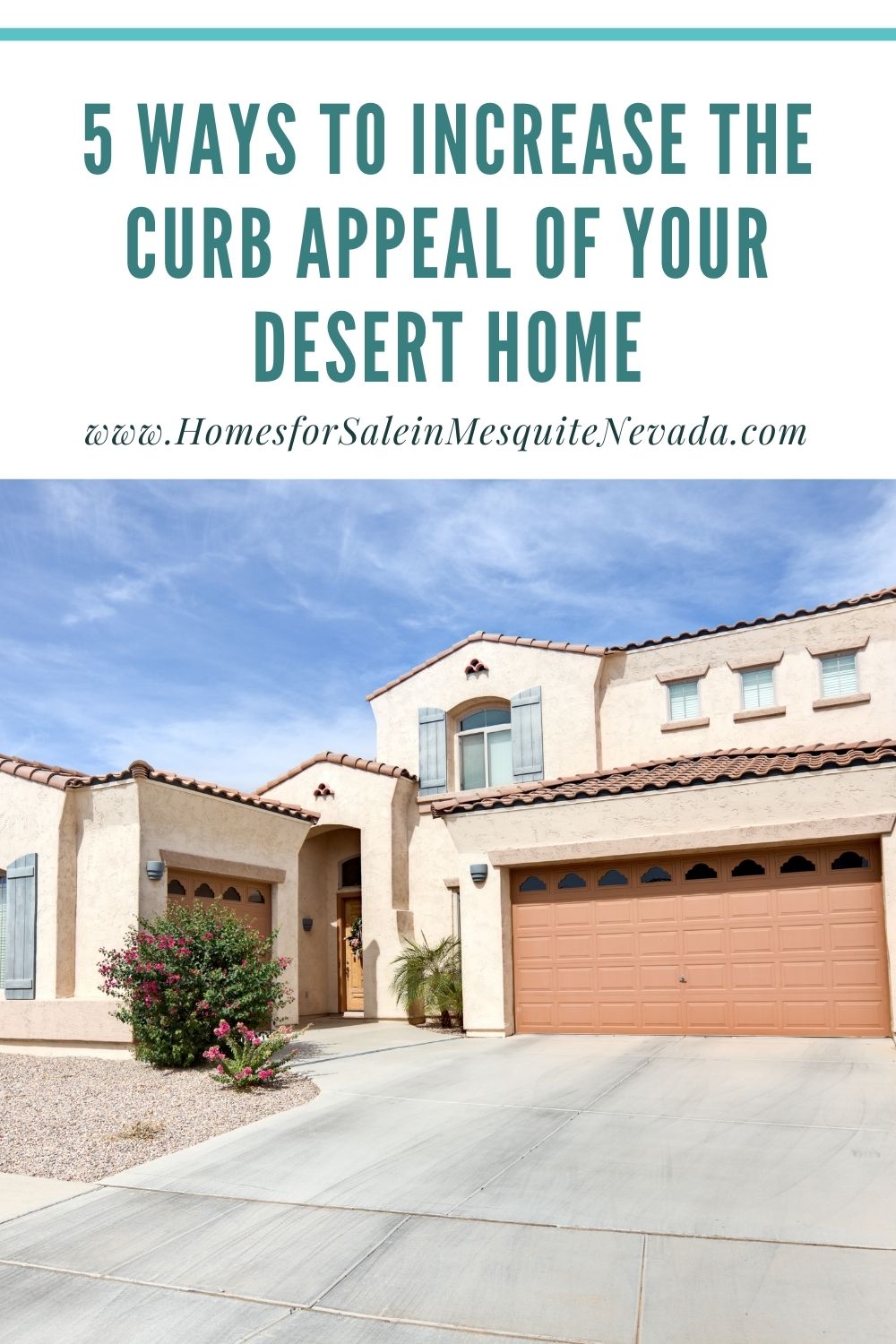 You don't need evergreen trees and bright green grass to boost your curb appeal and your Desert home. If you're planning on selling your property and you live in a place where lush greenery is not the norm, there are ways to increase your curb appeal and feature the desert beauty of your landscape. Before listing your home, check out these five ways to increase your curb appeal of your desert home or property.
#1. Attend to all man-made hardscapes.
This means sprucing up or purchasing new house numbers, replacing the hardware on the front door including door knobs, locks, and kick plates, paint the trim or, if necessary, have the entire house painted, and touch up any peeling or nicked would, stone, or stucco around the house. Buyers may not notice if you do these things but they certainly will notice if you don't.
#2. Use lighting.
Lighting against a beautiful desert landscape as charm and appeal to any property. When the days get shorter, it's important to have some lighting for buyers and their agents to easily find the front porch or the front door. The last thing you want is for anybody to trip or stumble trying to get into your house. Make it as clear, and visible as possible, plus, solar lights are inexpensive and can really beautify the curb appeal.
#3. Consider a new front door or garage door.
There are so many options when it comes to beautiful front doors and garage doors that they really can add an accessory focal point to a home. Your front door makes a huge impression on visitors and potential buyers. An iron door can add instant luxury and while they might look a little expensive, iron doors are somewhat affordable.
Garage doors with intricate woodwork, Windows, or in a beautiful contrasting color can really add charm and curb appeal to a buyers first impression.
#4. Consider natural hardscapes.
A beautiful no water, dry riverbed or even a water feature can add charm, sound, and a refreshing beauty to the front yard. Choose natural and native plants and flowers to surround any hardscape to withstand our low moisture climates. You can add drama with elevation and xeriscaping with a drought resistant greenery.
Related: 8 Tips for Adding a Water Feature to Your Landscape
#5. Use appropriate plants.
The desert does leave some challenges when it comes to living plants but there are plenty that will thrive in our climate such as Bottle Brush, Flaming Katy, Fox Tail Agave, Ghosts Plant Succulent, Jade Plant, Texas Sage, Mexican Feather Grass, and Golden Barrel Cactus. By using what's native to our area you won't have to worry about watering it and keeping it alive, especially if you're planning on selling soon. These plants will really boost the curb appeal, and that pop of greenery or color, yet be sustainable for years.
For more information on increasing the value of your Mesquite home or tips on improving your curb appeal, contact our office at any time. We specialize in selling homes in Mesquite Nevada and we know what buyers are looking for. Let us help you sell your next Mesquite home quickly and for the right price.
Search all Homes for Sale in Mesquite NV